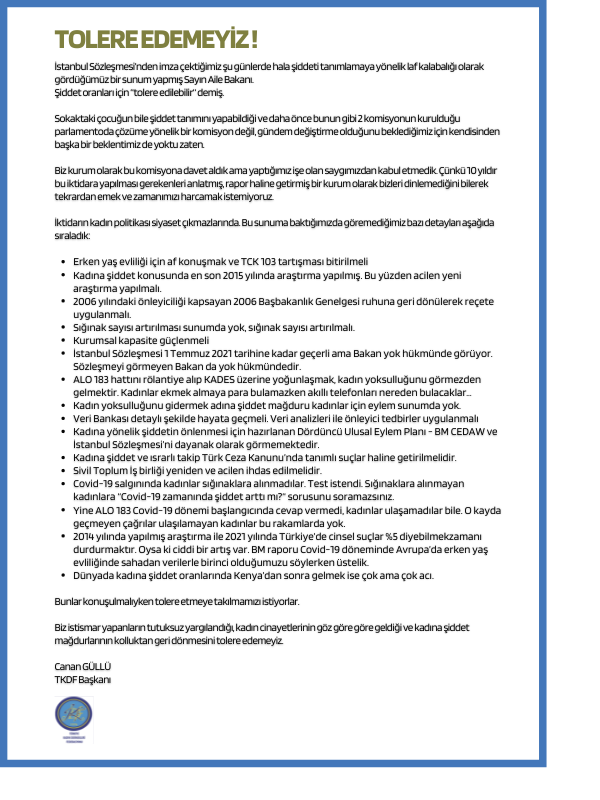 12.12.2020
WE CANNOT TOLERATE!
The women's policy of the government is in political deadlocks. Here are some of the details we didn't see when we looked at this presentation:
Talking about amnesty for early marriage and the TCK 103 discussion should be ended
The last research on violence against women was done in 2015. Therefore, new research is urgently needed.
The prescription should be applied by returning to the spirit of the 2006 Prime Ministry Circular covering prevention in 2006.
Increasing the number of shelters is not included in the presentation, the number of shelters should be increased.
Institutional capacity should be strengthened
The Istanbul Convention is valid until 1 July 2021, but the Minister considers it null and void. The Minister who does not see the contract is also null and void.
To idle the ALO 183 line and focus on KADES is to ignore women's poverty. Where will women find smartphones when they cannot afford to buy bread?
In order to eliminate women's poverty, there is no action for women who are victims of violence.
The database should be implemented in detail. Preventive measures should be implemented with data analysis
The Fourth National Action Plan for the prevention of violence against women - does not see the UN CEDAW and Istanbul Convention as a basis.
Violence against women and stalking should be made crimes defined in the Turkish Penal Code.
Civil Society Cooperation should be re-established and urgently.
During the Covid-19 outbreak, women were not taken to shelters. Test requested. You cannot ask the question "Did violence increase during Covid-19?" to women who were not taken to shelters.
Again, ALO 183 did not respond at the beginning of the Covid-19 period, women could not even reach it. These numbers do not include women whose calls are not recorded and cannot be reached.
According to the research conducted in 2014, to be able to say 5% of sexual crimes in Turkey in 2021 means to stop the time. However, there is a significant increase. Moreover, while the UN report says that we are the first with data from the field in early age marriage in Europe during the Covid-19 period.
Coming after Kenya in terms of violence against women in the world is very, very painful.
They want us to hang onto tolerating them while they should be talked about.
We cannot tolerate that perpetrators are prosecuted pending trial, femicide is in sight, and victims of violence against women return from law enforcement.
Canan GULLU
TKDF President